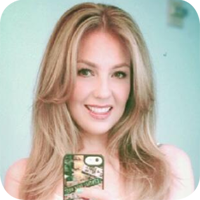 Thalia ha debutado un nuevo look, como no la habiamos visto anteriormente y es que la actriz de Maria la del Barrio se convirtió en rubia.
"Here we go! #newadventure A la aventura de la vida! Y a seguir tus impulsos…siempre!" fue lo que escribió Thalia en su cuenta de Instagram.
El rubio de Thalia es a la víspera del verano que le viene muy bien.
Minutos antes la también cantante subió una foto en donde decia que su amiga Rita Hazan la estaba tratando de convencer de convertirla en rubia. "My friend Rita Hazan in the zone … Super-in-to my hair. She is trying to convince me to go B!"
Finalmente pudo convencer a Thalia en cambiar radicalmente de look. ¿Qué les parecio la nueva imagen de la actriz y cantante?
Vean las fotos del nuevo look de Thalia a continuación: