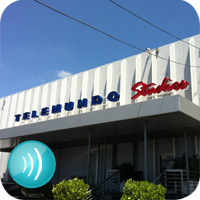 Telemundo llega con todo para esta nueva temporada. Se anuncian nuevas telenovelas que seguramente nos cautivaran. Esta parece ser una de las temporadas mas ambiciosas de la cadena Latina que busca consolidarse en el mercado nacional e internacional.
Aqui los titulos de las nuevas producciones que se preparan:
– El Rostro de la Venganza
– El Señor de los Cielos
– La Patrona
– Pasion Prohibida
– Nace Un Idolo
– Fina Estampa
Ademas se puede confirmar que Telemundo ha adquirido los derechos de la secuela de La Reina Del Sur.
Las telenovelas se anunciaran oficialmente manana, el 15 de mayo a las 6pm en la presentacion del Upfront en Nueva York.
OPINA: Que les parecen las nuevas telenovelas de Telemundo?
A continuacion las presentamos la sinopsis de cada proyecto….
El Rostro de la Venganza
After spending most of his life in jail paying for a crime he has no memory of committing, 30 year-old Diego Mercader Carrasco is released and adopts a different identity to begin a new life and protect himself from his past. With the help of his psychiatrist Antonia Villarroel and Ezequiel Alvarado, who becomes his benefactor and a father figure, Diego gets a second chance as he will now be known as Martin Mendez.
Antonia and Martin (Diego) become romantically involved, and she teaches him about life and love. As her love for Martin grows, Antonia digs deeper into Diego's case, trying to find out what really happened 20 years earlier. Determined to prove his innocence, Antonia gets involved more than she should and will pay a very high price for her investigation. Meanwhile, Martin must uncover the past and piece together clues and memories of the tragedy that unfolded 20 years ago to reveal…what really happened that day?
El Señor de los Cielos
Damian Torres is a man of humble beginnings who dreamed of having it all. Through relentless will and fearless determination, Damian transforms himself from a poor peasant into one of the world's richest men and a powerful drug trafficker, wanted by the DEA. Damian embodies the entire spectrum of what the human soul is capable of, from the virtuous to the unthinkable, all fueled by his immeasurable desire for power and wealth. Damian's life turns into a quest for survival when his numerous enemies start hunting him down and the DEA closes in. He realizes that his only way out is to start a new life as literally a new man, so he decides to undergo facial reconstruction. Damian will discover that on the dangerous path to riches he chose to take, there is no turning back.
La Patrona
Adriana Ordoñez's life has led her to endure unexpected hardships, but because of her immeasurable strength, she will ultimately experience the greatest of transformations, both physically and emotionally, in a quest for redemption. After her parents died in an accident, Adriana is taken in by Mari Cruz Perez, the distinguished Beltran family's chef. Mari becomes Adriana's foster mother giving her the love and affection she craved. Adriana's misfortune comes as a result of falling in love with Alejandro, the fiancé of one of the Beltran family's daughters, which makes Adriana a target for many in the family. Her enemies conspire and have her locked up in an asylum, but a terrible fire destroys the facility. Adriana narrowly escapes with her life; however everyone believes she is dead. While she is recovering, Adriana learns that she inherited her father's valuable lands. Adriana vows to take advantage of the opportunity and change her life forever. Transforming herself into a powerful and wealthy woman, Adriana hides her true identity to take revenge upon those who wronged her. But will her plans for revenge eclipse the only true love she has ever known?
Pasion Prohibida
Mariana is driven by hatred against Deborah, her mother, whom she blames for the death of her father. Mariana marries Juan Pablo, an older, wealthy widower, whom Deborah has set her eyes on, seeking his fortune. Despite Juan Pablo's kindness and love towards her, in reality, Mariana does not genuinely love him. When Mariana discovers a hidden truth and realizes her vengeance is unfounded, she tries to find happiness alongside Juan Pablo. However, Mariana never imagined that she would find the passion and true love she was seeking in Bruno, her husband's nephew. For his part, Bruno has an internal struggle because of the passion he feels for Mariana and the loyalty he owes to Juan Pablo, a man whom he considers his adoptive father. Ultimately, Mariana and Bruno will live a love that is passionate but forbidden and which will turn Mariana into a victim of her own game.
Nace Un Idolo
The serialized biography is based on the real-life story of José Sosa Ortiz – better known as José José, "El Príncipe de la Canción" (The Prince of Song), a Mexican musical icon adored by millions around the world. His story embodies a man's journey to reach the status of an idol – including fame and fortune – and the high price he had to pay to achieve his dreams.
"Nace un Idolo" highlights the passion and excitement that a superstar artist feels for his craft and the adoration of his fans. It also displays the frailty of the man coping with his addiction and its damaging effects. His is a story of hope and new beginnings and the success to regain all that he almost lost—his family, his voice, his life.
Fina Estampa
After her husband apparently disappears at sea, Griselda is determined to do anything to provide for her family, even if it means taking on the job of a "handyman," an unusual profession for a woman. Hard-working and humble, Griselda is proud of her job because it allows her to prove that someone can have a decent, happy life without compromising one's values. One of her sons is getting engaged to the daughter of Teresa Cristina, a wealthy, elegant and superficial woman. Teresa Cristina is horrified at the prospect of being related to a woman from a lower class so she continuously humiliates Griselda, even though her husband, Rene, reproaches her for her actions.
After many years playing the same lottery numbers, Griselda wins $25 million dollars, and her life suddenly changes, but not her nature. Her fortune doesn't just bring Griselda a better life; it also "resurrects" her husband who had supposedly been dead for years, leading to a series of unexpected complications for Griselda and her family. Despite having more money than she ever imagined, Griselda learns that life is never easy; but for someone with integrity, anything is possible—even finding true love.