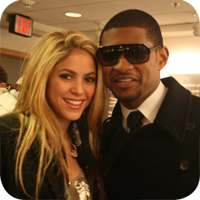 ACTUALIZACIÓN: Ya se ha confirmado que Shakira y Usher si regresarán a The Voice para la temporada 6, según un comunicado de NBC. La temporada 5 que se transmitirá en el otoño 2013, verá el regreso de Christina Aguilera y Cee Lo Green.
A pesar de que se ha especulado que Shakira y Usher dejarian The Voice después de sólo una temporada, todo parece indicar que si regresarán, según informes de EW.
Desde un inicio se dijo que tanto Christina Aguilera y Cee Lo Green se tomarian una temporada fuera del aire para enfocarse en su carrera musical. En su lugar entraron Shakira y Usher, que han sido del agrado del público que siguen la competencia.
En dias recientes varios medios declararon que Shakira ya no regresaria al reality, pero los ejecutivos de NBC se encuentran en negociaciones con la cantante de "Loba" para que regrese en la temporada de primavera en el 2014.
Ahora el jurado original conformado por Adame Levine, Christina Aguilera, Blake Sheldon y Cee Lo Green regresará en el Otoño con Shakira y Usher tomando sus respectivos lugares para la primavera.
¿Qué les ha parecido el desempeño de Shakira y Usher como coaches de The Voice?